EOScu Preventive Biocidal Surface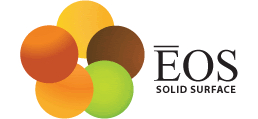 With the rise of hospital-acquired infections (HAIs) and antibiotic-resistant microbes, new infection control methods are needed. EOScu Preventive Biocidal Surface is the answer. It's a versatile solid material that uses copper's biocidal activity to continuously reduce bacterial contamination and hospital-acquired infections, lowering the overall bioburden of the patient room. In fact, it's the only synthetic hard surface, EPA-registered for public-health claims, that prevents and protects by actively killing bacteria, even after repeated contamination.
It offers another layer of protection to help combat infections in any setting, and a host of benefits:
Practical. EOScu is beautiful, affordable, versatile and easy to install/customize.
Proven. While some products make claims to reduce bacteria and help patients without the scientific evidence to support those claims, EOScu has undergone real-world clinical trials that resulted in statistically significant 78% and 83% reductions in HAIs.
Self-Sanitizing. Clinical trial results show EOScu maintains statistically significant reductions in bioburden, achieving isolation room levels of cleanliness in patient rooms not on isolation status.
No additional steps or costs. With a one-time cost, EOScu works 24/7/365 to bridge the gap between routine daily cleanings, continually lowering bioburden in the patient environment without additional human processes, including training, ongoing supplies, or interruptions to the patient experience.
Preventive and safe. EOScu is safe for patients and their families, as well as for your doctors and other staff.
For more information on the remarkable EOScu Preventive Biocidal Surface, visit: http://eoscu.com