Wilsonart® TFL Panels: Wilsonart Thermally-Fused Laminate Panels and Edgeband are available in over 200 matching woodgrains, solids and patterns – more than any other TFL line in the market. Most significantly, Wilsonart offers its TFL panels and edgeband in a revolutionary system of Coordinated Surfaces that matches up the design and textured finishes of its TFL panels with its renowned line of High Pressure Laminates (HPL), making it hard to tell where HPL and TFL begin or end. That means you can apply Wilsonart Coordinated Surfaces where you need it most: HPL for optimum impact- and scratch-resistance, TFL for maximum cost efficiency.
For more information on Wilsonart TFL Panels, visit: http://www.wilsonart.com/laminate/coordinated-surfaces/tfl-panels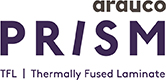 AraucoPRISM TFL Panels: PRISM is Arauco's exclusive collection of over 70 TFL panel designs (Woodgrains, Abstracts & Specialty Solids), all available in 10 different textures. The PRISM TFL series also includes edgebanding, HPL, 3DL, wrapping and moulding products for the entire collection. Most importantly, Aetna's no-minimum order plan for PRISM, combined with our extensive PRISM inventory, means that you can 'scale' PRISM to any of your TFL applications, and/or your customer's, with complete confidence in product availability, quality, and economy.
For more information on Arauco PRISM TFL Panels, visit:
http://www.prismtfl.com/about-prism